New Jersey Prescription Pad Printing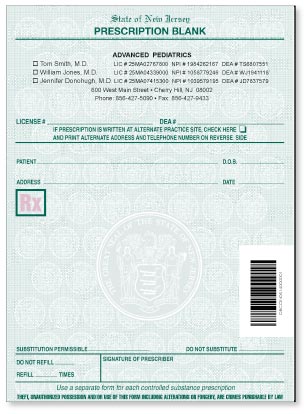 Data Business Systems is an approved printer of the new format for the State of New Jersey.
Padded: 5.5" x 4, 1 part padded in 100's.
Please fax a copy of your existing script or required heading information to (973) 252-1885.
State law requires that all scripts be printed with practice information, License Number and National Provider Identification Number and a 15 digit bar-code.
We carry the following formats as indicated in the drop-down MD, DO, DDS, DMD, DPM, DVM Nurse Practitioner Physician Assistant Healthcare Facility Eyewear Topical Pharmaceutical Agents only (TPA Certified)
Padded Format:
1) MD, DO, DDS, DMD, DPM, DVM
2) Physician Assistant
3) Healthcare Facility


Padded Format:
1) Eyewear
2) Nurse Practitioner
3) Midwife
4) TPA Certified

Back-Printing for additional addresses. (Required by the State of NJ)