HIPAA Sign-In System-One Write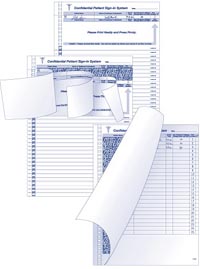 A Simple Answer to Patient Confidentiality.....

With this method of sign-in in place, patients can't see other patients names/information. What's more, office personnel can either refer to patients by name or by number.

On a numbered slip, each patient prints Name, Arrival Time, Name of Healthcare Professional, and lets the office know if there have been any insurance or address changes since the last visit. The information is transferred via carbonless paper to a master log. Once the patient removes the slip, the information is protected behind the carbonless paper, available only for office use.

The front desk attendant reads the log and calls each patient by name or by number

Available as a Kit. which includes a folding board and 40 sets.

Additional refill sheets of 40 (Sign in receipts are pre-glued to the sign in journal), numbered 1 through 25, or enough slips to see 1,000 patients.

| | | | |
| --- | --- | --- | --- |
| | Kit-Folding board along with 40 sets. | | |
| | Refill Sheets | | |