Dental Charting System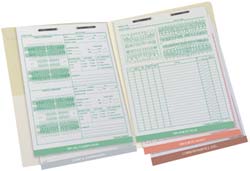 Pre-assembled Dental System makes your practice more efficient! Our popular, preassembled chart contains all the necessary forms a dental office needs, and costs less than purchasing each seperately.

Each preassembled chart includes:
Durable 11 PT. pocket folder with a 2" bonded fastener; a file divider with a twin prong fastener; and a 5 ml poly pocket 8 3/4"W x 5 1/2"H
Patient Registration- gathers complete personal, billing and insurance information.
Recall Examination- updates health information, exam history, x-ray history, hygiene instructions and more at subsequent visits.
Progress Notes-columns record tooth, anesthetic given and treatment documentation.
Health History Update- documents changes in health or medication.
Correspondence Log- tracks corrrespondence sent or received by the office.
Clinical Examination- documents patient's first visit, including chief complaint and existing or previous condition.
Treatment Plan with Chart-records exam on a diagram with additional space to document treatment plans and completion dates.
Health History- details medical and dental condition questions, previous dental treatments and more.

All forms in the set are also available seperately.


Complete Dental Charting System: Preassembled with 25 sets of each form listed below.

Replacement Charts for Start-up system - Folder Durable 11 PT. pocket folder with a 2" bonded fastener; a file divider with a twin prong fastener; and a 5 ml poly pocket 8 3/4"W x 5 1/2"H

View Sample
JPEG
Patient Registration

View Sample
JPEG
Recall Examination

View Sample
JPEG
Progress Notes

View Sample
JPEG
Health History Update

View Sample
JPEG
Correspondence Log

View Sample
JPEG
Clinical Examination

View Sample
JPEG
Treatment Plan

View Sample
JPEG
Health History