Prescriptions - Florida Controlled EMR Laser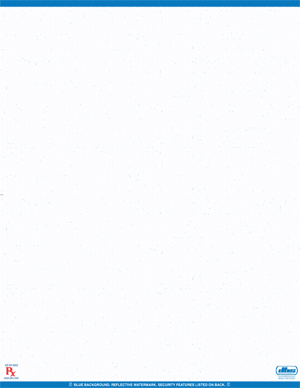 Available in 3 different Formats:
*1 script per sheet (Portrait format), positioned upper left
*1 script per sheet -Full Sheet.
*2 scripts per sheet

Florida law requires that a tracking number be on every script. This should include:
(1) An alphabetic prefix that readily identifies the vendor
(2) The date of printing
(3) A batch number.
The price below includes printing this track number on the scripts.

Effective July 1, 2018, section 456.44, Florida Statutes, will require practitioners who prescribe a controlled substance to indicate directly on the script if the prescription is for the treatment of pain other than acute pain.

Any schedule II opioid prescription must indicate if it is for "NONACUTE PAIN" or meets the "ACUTE PAIN EXCEPTION", as specified in the bill for acute pain treatment.

***Please contact your software company in order to make the necessary update.

View Sample
PDF
EMR Laser Script - 1 Full Sheet

View Sample
JPEG
EMR Laser Script - 1 Script Top Left Portrait

View Sample
JPEG
EMR Laser Script - 2 Scripts per page

EMR Laser Script - 4 scripts per sheet