Dental Referral Pads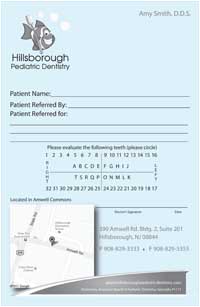 Dental Referral Pads-
Given out to other medical offices and used for referral
for dental services at your practice.

*8.5" x 5.5", 1 Part 20# White or Colored Bond,

*Padded in 50s, prints in black ink.

*Available in a choice of White or 6 different paper colors:
Blue, Cream, Grey, Green, Pink & Salmon

Completely customized at no extra charge.
A proof is provided prior to printing.
View Sample
PDF
Dental Referral Pads