Prescriptions - California Controlled EMR Laser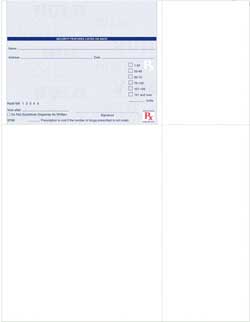 California Controlled EMR Laser Scripts:
Valid for C-2 thru C-5 medications.

As required by CA State law, CA Scripts are Printed Landscape on either Top or Bottom left on an 8.5" x 11" Laser / Inkjet compatible sheet. Consecutively Numbered 001 & up.

After placing your order, please be sure to fill out the online information form, print out and fax to (973) 252-1885. Reference the order number assigned.

This site is designed for use by:
DOCTORS, HEALTHCARE PROFESSIONALS and MEDICAL CLINICS.
medical-forms.com reserves the right to ask for Proper documentation and authorization to order scripts.
View Sample
JPEG
California Controlled Scripts