Prescriptions - Florida Controlled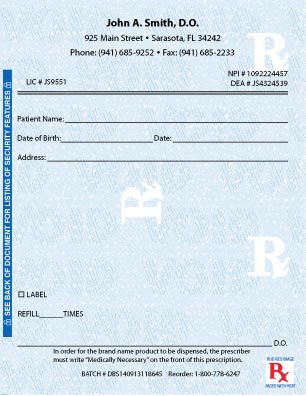 Florida Controlled Tamper Resistant Script Pads:
Printed either Portrait: 4.25" x 5.5" or Landscape: 5.5" x 4.25" , 1 Part, Padded in 100's.

One of the most secure scripts on the market today. Our scripts meet and exceed Florida tamper-resistant requirements that go into effect July 1, 2011

Our security features include:
1) Tamper proof chemical alteration.
2) Two artificial watermarks on the back.
3) Disappearing ink when altered.
4) Microprinting on both sides.
5) Invisible Fluorescent Fibers.
6) Step and repeated wording on front.
7) Repeating background area on front & back.
8) A Special Batch Number is assigned to each script for tracking.

Please fax a copy of your existing script or required heading information to (973) 252-1885 and reference your order number. A proof will be faxed prior to printing.

| | | | |
| --- | --- | --- | --- |
| | Florida Controlled Tamper Resistant Script Pads: 1 Part, Padded in 100's, Black Ink, Portrait Orientation | | |