Insurance Claim Forms: CMS1500 - Continuous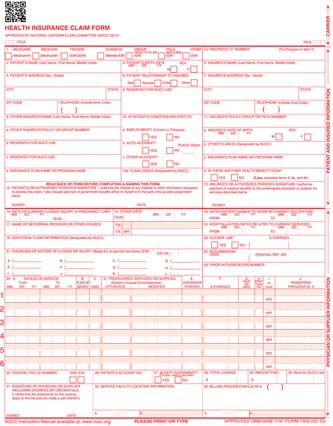 Insurance Claim Forms 9.5" x 11", 1 or 2 Part, Red Ink, configured for a Dot Matrix Printer. Printed in red OCR (optical character recognition)ink on special bond paper in strict compliance with government printing.
We offer the the Insurance Claim Forms in both the 08-05 and the latest 02-12 version.
Nationwide Warehousing: We have 10 warehouses located nationwide for low cost and quick delivery.
The new Insurance Claim form is now available! The revised CMS-1500 healthcare billing form, which was recently approved by the Centers for Medicare & Medicaid Services (CMS), has been released for official use. The new CMS-1500 (version 02/12) will replace the previous form (version 08/05).
Following is the final transition timeline for implementation of the new CMS-1500 claim form: January 6, 2014: Private insurance carriers and Medicare will begin to receive and process claims on the revised CMS-1500 form (02/12).
January 6 - March 31, 2014: Dual-use period during at which time both versions of the form will be accepted.
April 1, 2014: The current form (08/05) is discontinued. All private insurance carriers and Medicare will only accept the new version of the form (02/12).