Department Receipt Books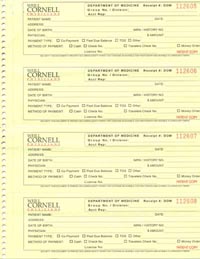 Department Receipt Books:
Used to facilitate the tracking of patient's payments, these 3 part receipts can be completely customized to your specifications.

They are available either with 3 or 4 receipts per page, print in black ink and are spiral bound with a heavy duty back and cover. For added security, each receipt is consecutively numbered.

3 Receipts Per Page:
150 Receipts per book
(Receipt Size: 3 1/2" x 6 1/2")
4 Receipts Per Page:
200 Receipts per book
(Receipt Size: 2 5/8" x 6 1/2")

Fax information to be printed on the receipt to (973)252-1885 and reference our order number.

A Proof will be provided prior to printing.